Thanks to its grand scale and history, AlUla (which dates to the 6th century BC) is known as "the Petra of Saudi Arabia".
The Chedi Hegra hit the jackpot when it gained permission to build its 33-room boutique hotel into parts of the old station from the Hijaz Railway and Hegra Fort. Mud-brick construction will be incorporated into modern architecture, with historic features such as a restored Ottoman-era train in one of three restaurants. Among other hotels planned for AlUla is Dar Tantora, a 30-room eco-lodge in the Old Town, opening this December.
Hotels by Aman, Armani, Anantara and Equinox are also greenlighted for Saudi more broadly. Four Seasons Hotels and Resorts is planning a staggering 10 hotels across the oil-rich nation, which is squeezed between the Red Sea and the Persian Gulf.
At least you need not worry about too many tourists ruining the AlUla experience if you stay at the Chedi – when it opens later in 2024, it is hoping to offer its guests exclusive access to the tombs.
Given Saudi Arabia attracted seven million international tourists in 2021, it has a way to go. Then again, $US800 billion ($1245 billion) in tourism investment has been earmarked over the next decade; the kingdom has also just created a new airline (Riyadh Air), and is on track for a new airport in Riyadh by 2030. Saudi doesn't do things by halves.
Prices are yet to be set for the Chedi, Hegra; ghmhotels.com.
Come to your senses in Japan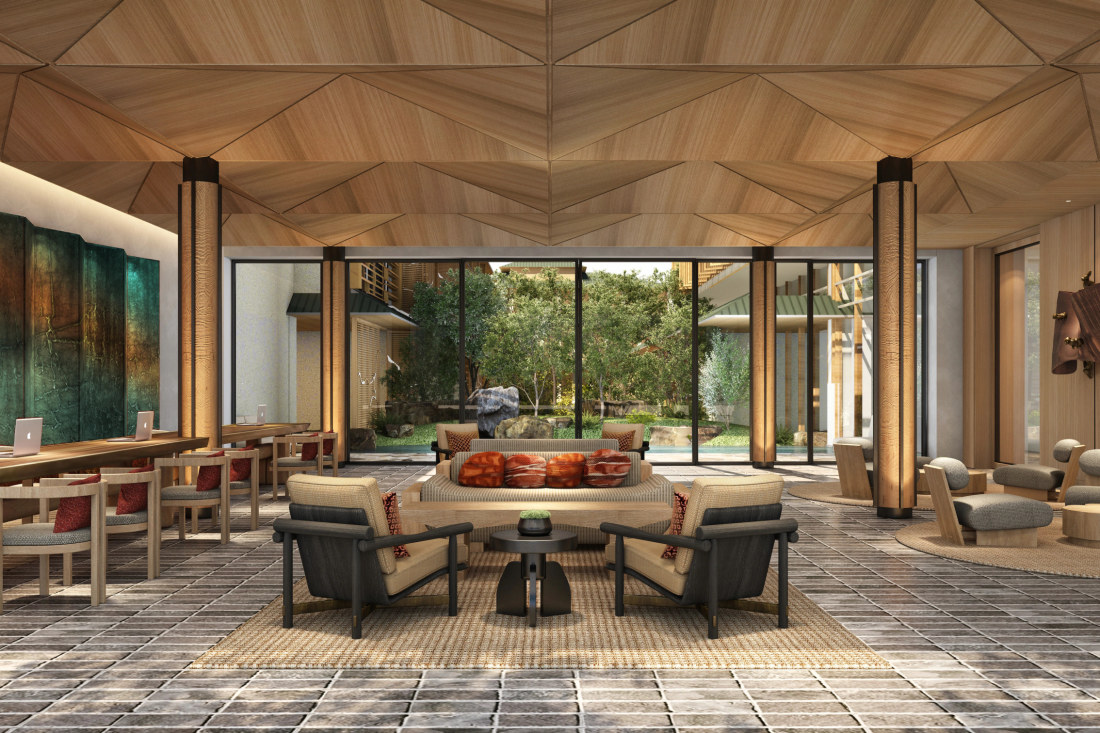 As Japan's magnetism grows ever stronger, Six Senses will open its first property in the country, in Kyoto, in the spring of 2024. A 2.5-hour ride on the bullet train from Tokyo, Kyoto boasts no shortage of temples and shrines. Six Senses Kyoto is positioned in front of the Myoho-in temple and Toyokuni-jinja shrine, within walking distance of the Gion geisha district.
It's a busy year for Six Senses, which is also due to open properties in London, Bangkok and on the Caribbean island of Grenada. But it won't lose its sense of place in Kyoto: Japanese minimalism will reign in the 81 rooms arranged around a courtyard; the spa will blend traditional healing with Japanese Zen culture; and a specialist sushi restaurant will feature alongside all-day dining.
Elsewhere in Japan, Rosewood is opening a 55-villa hotel on Miyako Island in the Okinawan archipelago to the south-west of the country. Built on a peninsula with sandy beaches on three sides, it should be the perfect place to relax after the frenetic pace of Japan's cities.
Prices are yet to be set for Six Senses Kyoto; sixsenses.com.
Second time around in Bangkok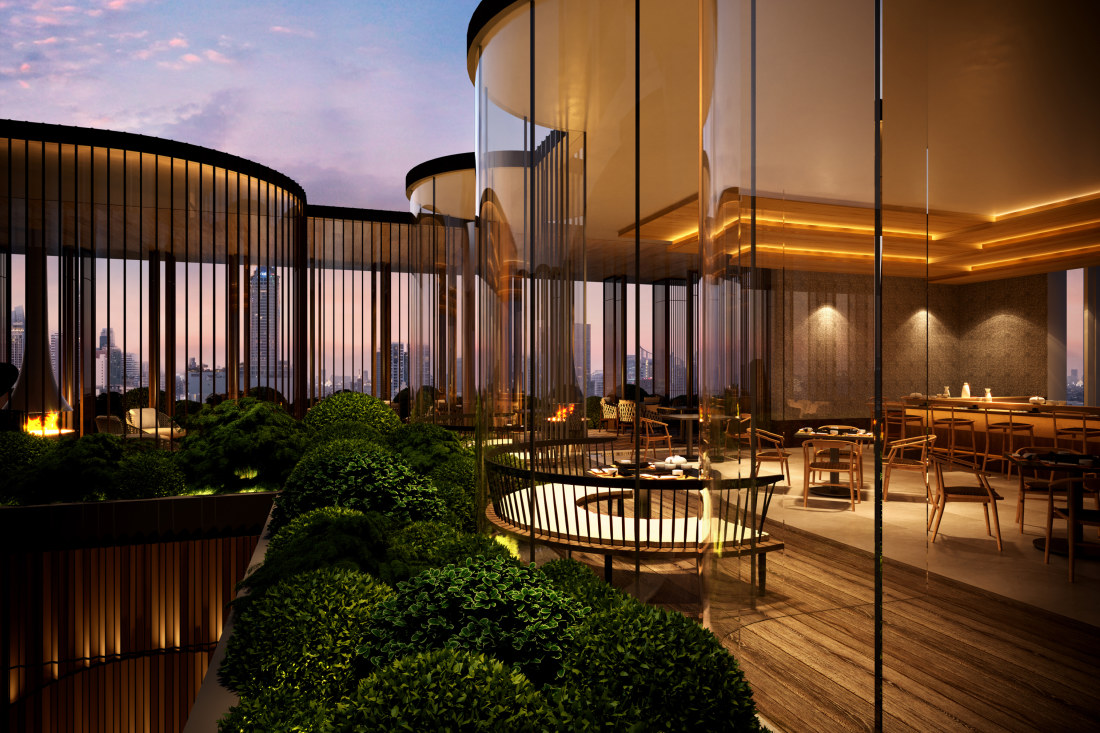 Some 36 years after Adrian Zecha launched the Aman brand, opening his first-ever resort in Thailand, the group is returning to the Land of Smiles in 2024, with a Bangkok property. Much has changed since Amanpuri opened in Phuket in 1988. And the international group with 34 hotels and another 10 in the pipeline is now owned by Russian-born Vladislav Doronin.
The high-rise Aman Nai Lert Bangkok is designed to be an oasis in the heart of the city thanks to its location in the 3.2-hectare tropical gardens of Nai Lert Park. Influences from the park's Heritage Home will be reflected in the 52 suites and 50 residences, and Italian and Japanese restaurants will feature, along with a rooftop jazz bar. The wellness centre spans two floors, with both a medical and holistic spa.
Prices yet to be set for Aman Nai Lert; aman.com.
Nepal's dreamy mountain drama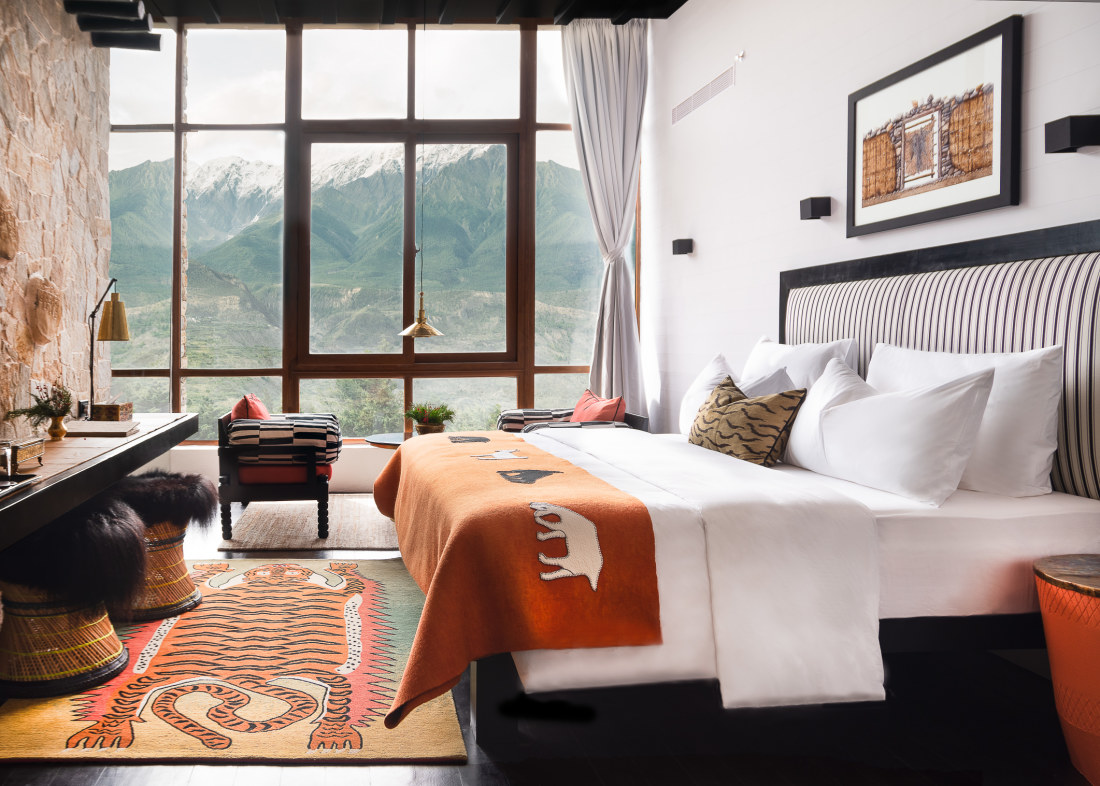 Talk about a hotel with altitude – at 2800 metres, Bill Bensley's first Bensley Collection Hotel outside Cambodia is surrounded by mountain drama. A 20-minute flight from Pokhara, this lodge in a valley between Nepal's Annapurna and Dhaulagiri mountain ranges commands mesmerising views of the snow-capped Nilgiri peaks. You can even ogle them from the sauna and steam room.
Created in an existing two-storey stone building, Shinta Mani Mustang is owned in partnership with Kathmandu-based Sherpa Hospitality Group. Bensley has kitted out the 29 swish suites with black wood floors, warm fabrics, Tibetan rugs and that must-have item – a complimentary mini bar topped with yak hair.
There's a minimum five-night stay, but you'll need the time to take advantage of all the activities on offer. Trekking, horse riding, rock climbing and cycling are part of the all-inclusive package price. Return to the comfiest of base camps, where you can sit by one of the huge fire pits and gaze at the stars shining from the roof of the world.
Shinta Mani Mustang is $3003 per couple per night (with a five-night booking minimum); see shintamani.com.
A members-only Mexican wave
It doesn't get much more exclusive than a four-bedroom hotel in Mexico City for members only. Soho House – which is trying hard to open a five-level property in Sydney, if it can get approval from the City of Sydney – is keeping things intimate at its first property in Latin America.
The historic casa in the city's Colonia Juárez neighbourhood isn't short of facilities, including a pool, a vinyl music room and several bars (one dedicated to tequila). Two restaurants are overseen by Napa Valley's renowned chef Christopher Kostow, who gives a Californian twist to Mexican dishes.
Mexican influences also abound in the interiors of the French baroque-inspired building, with its locally made furniture, throws from Oaxaca and Mexican art.
Elsewhere in Latin America, Four Seasons is next year due to open a private-island property in Belize, a second hotel in Los Cabos, and another in Colombia's Cartagena, incorporating buildings from the 16th century.
Rooms at Soho House Mexico are priced from $1047 a night; sohohouse.com
Paris puts in an Olympian effort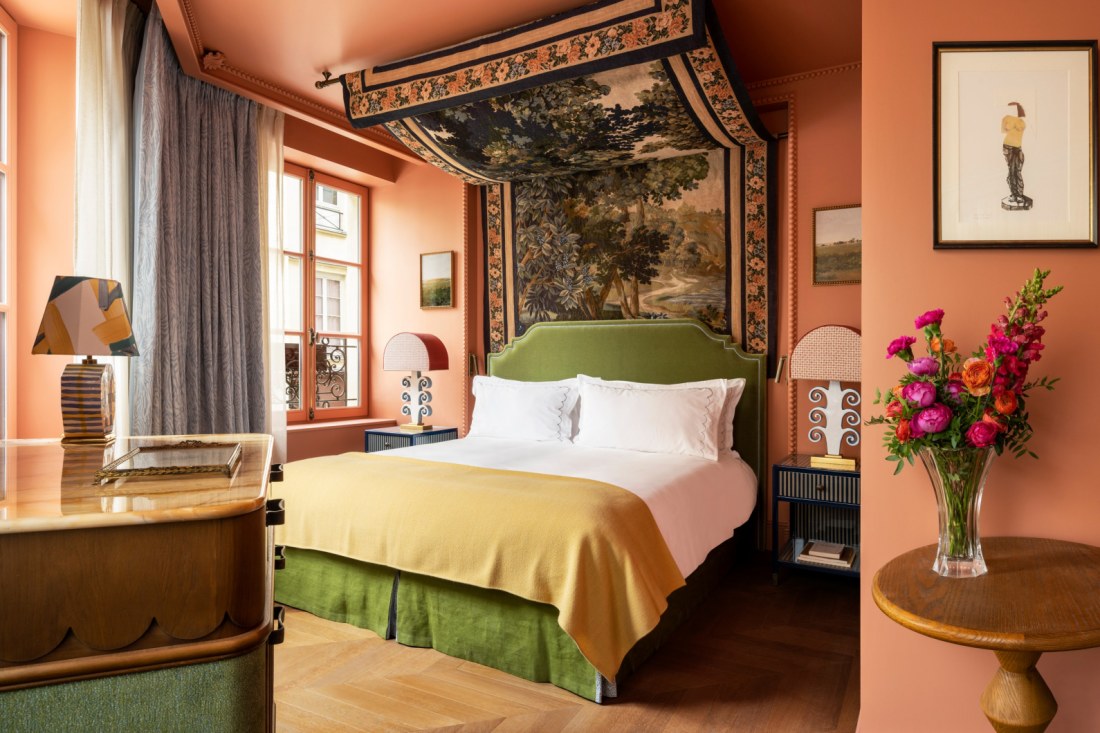 It's been a sprint to the finish for a raft of top-quality hotels in Paris before next year's Olympics. Along with all the refurbishments, new openings range from the Left Bank's Hôtel Dame des Arts, with its panoramic rooftop, to the modern florals in the 9th arrondissement's La Fantaisie. Its interiors were created by man of the moment Martin Brudnizki, who is also behind the flamboyant, theatrical style of Le Grand Mazarin, which opened in the Marais in mid-September.
Picutre wallpaper with embedded seashells, an indoor pool beneath a domed roof with swirling mural, and a restaurant serving snappy east European cuisine. Tapestry-canopied beds feature in the 61 rooms, while a speakeasy bar with cabaret opens at the end of November.
The latest in the family-owned Maisons Pariente stable (Lou Pinet in St Tropez, Crillon Le Brave in Provence and Le Coucou in Méribel), it definitely takes the gold in Paris.
Meanwhile, in Nice, the Hôtel du Couvent should open in time for post-Olympics relaxation, with its Roman-inspired thermal baths and a resident herbalist.
Le Grand Mazarin is priced from $1149 a night, with breakfast; legrandmazarin.com.
London's Claridge's gains a little sister
London's lust for luxury rolls on. Hot on the heels of the just-opened Peninsula and Raffles at the Old War Office is a second Mandarin Oriental for the city – as well as England's first St Regis and Six Senses brands.
The Maybourne Group hasn't added a London property in about 50 years, but will open The Emory at the start of next year – a sibling for its stellar portfolio of Claridge's, The Connaught and The Berkeley.
Located in Knightsbridge, the Emory is strikingly modern, its "sails" structure rising from a rooftop that offers panoramic London views. Designed by the late Richard Rogers, with a discreet entrance in Old Barrack Yard, it's all about quiet luxury. The 60 suites are spread over nine floors; pick yours according to your favourite interior designer, from Pierre-Yves Rochon to Alexandra Champalimaud.
While it couldn't be more different from classic Claridge's, the Emory will emulate its big sister with an underground spa. Its restaurant is an outpost of New York's abc kitchen under Jean-Georges Vongerichten, who operates Jean-Georges at The Connaught.
Prices are yet to be set; the-emory.co.uk.
The Gilded Age returns to New York
It's been a couple of centuries since the area to the north of Madison Square felt quite so fashionable. Dubbed NoMad, it has undergone a dramatic transformation over the last decade – with new upmarket residential buildings, plus Soho House's The Ned and a Ritz-Carlton opening there in 2022.
Now the spotlight is on The Fifth Avenue Hotel, which has just opened in a building formerly occupied by an Italian Renaissance-style bank.
But it's the world of the 19th-century socialite Charlotte Goodridge, who lived on the site before it became a bank, that the hotel's Swedish interior architect Martin Brudnizki has sought to evoke. He worked closely with the hotel's owner, young real estate guru Alex Ohebshalom.
The place exudes old-world glamour, including walls lined with ruched pink silk, and plenty of antique mirrors, along with Murano glass chandeliers. In the wood-panelled restaurant, you'll find velvet club chairs. The hotel's 153 rooms don't lack colour, especially the jewel tones.
Rates at the Fifth Avenue Hotel start from $1408 a night; thefifthavenuehotel.com.
All the chill vibes in Palm Beach
The jetset are no strangers to the lush Oetker Collection (managed by the Oetker family), including London's The Lanesborough and Le Bristol in Paris. Late next year, Oetker will open its first American hotel, the Vineta, in Florida's Palm Beach. The barrier island an hour north of Miami is increasingly referred to as the "Hamptons of the South" as the influx of high-end restaurants, posh brands and well-heeled New Yorkers continues.
The shops of Worth Avenue are just two blocks from the Vineta, which will be housed in a listed building with a light-pink façade and Mediterranean revival architecture. The 1926 building was most recently The Chesterfield Palm Beach, home of the famed Leopard Lounge.
That lounge will become a restaurant under a re-design by Paris-based Tino Zervudachi. The original 53 bedrooms will be cut to 41, while throughout, Zervudachi plans "clean lines, a relaxed vibe and a stylish, younger colour palette".
Rates at the Vineta are yet to be set; oetkercollection.com
This is the first in a series of five Travel Hot Lists compiled by five specialist writers that will be rolling out all week on afr.com. The lists will be published together in full on November 17, both in print and online.