The latest business news as it happens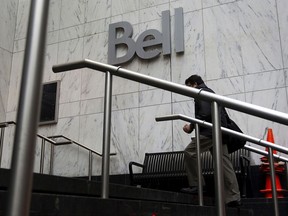 Article content
Today's top headlines
Article content
---
1:54 p.m.
WeWork looking to exit some Canadian locations as part of bankruptcy filings
Article content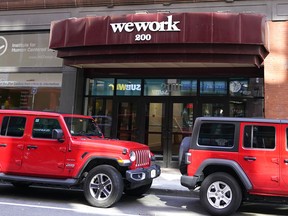 WeWork is seeking an early exit of several Canadian leases as part of bankruptcy proceedings for the once high-flying office sharing company.
Filings show the company is looking to get out of two leases in Toronto, two in Vancouver, and one in Burnaby, B.C. as part of its efforts to improve its balance sheet.
The five Canadian locations make up a small portion of the 69 total leases it sought permission to leave early, with most in New York.
The company said in a late Monday announcement that it had a deal in place with the majority of its stakeholders to "drastically reduce" its debt as it works to reduce its commercial office lease portfolio.
It filed for Chapter 11 bankruptcy protection in U.S. District Court in New Jersey, with plans to also file recognition proceedings in Canada, according to Monday's announcement.
WeWork locations outside of the U.S. and Canada will not be affected by the proceedings, the company said, as well as franchisees worldwide. Read more.
The Canadian Press
---
1:01 p.m.
Canada's emissions reduction plan falling short: environment commissioner
Article content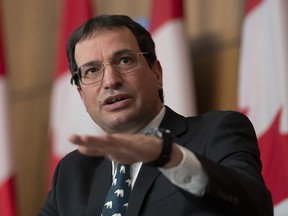 Canada's detailed plan to reach its greenhouse-gas emissions targets in 2030 is coming up short, the federal environment commissioner said in a new audit.
Jerry DeMarco did a deep dive into the government's Emissions Reduction Plan as part of a series of fall audits tabled in the House of Commons.
The plan was published last year and is a requirement under the federal net-zero accountability law passed in 2021. It is supposed to lay out a road map for Canada to hit its emissions targets, including the next big one in 2030.
DeMarco said Canada has never met any of its previous emissions targets, and this plan still has the country coming up several million tonnes short of hitting the next target in 2030.
That target would require Canada to cut its emissions to 40 to 45 per cent less than they were in 2005. To achieve that goal, Canada would need to cut its current emissions by about one-third before the end of 2030.
DeMarco found the measures in the Emissions Reduction Plan would only reduce current levels by about one-quarter by then. Find out more.
The Canadian Press
---
Noon
Midday markets: TSX falls as oil drops below US$80
Article content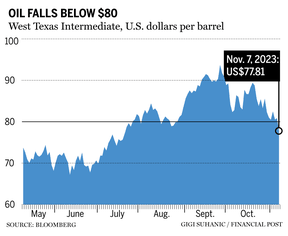 Canada's main stock index was down 150 points in early-afternoon trading with losses led by the energy sector as the price of oil dropped below US$80 per barrel.
The S&P/TSX composite index was down 0.76 per cent at 19,595.83.
In New York, the Dow Jones industrial average was up 0.15 per cent 34,148.53. The S&P 500 index was up 0.22 per cent at 4,375.74, while the Nasdaq composite was up 0.78 per cent at 13,625.40.
The Canadian dollar traded for 72.65 cents U.S. compared with 73.12 cents U.S. on Monday.
The December crude contract was down US$2.42 at US$78.40 per barrel and the December natural gas contract was down eight cents at US$3.18 per mmBTU.
The December gold contract was down US$16.10 at US$1,972.50 an ounce and the December copper contract was down four cents at US$3.68 a pound.
The Canadian Press
---
11:45 a.m.
Canada aims for 26,400 new homes on federal land in five years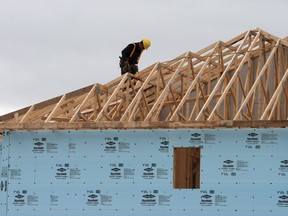 Prime Minister Justin Trudeau's government says it expects 26,400 homes to be built on federal land over the next five years, its latest move to address a supply shortage that has sparked a public backlash against his leadership.
Article content
Public Services Minister Jean-Yves Duclos said Canada Lands Co. — a public corporation that's responsible for federal properties — will ramp up efforts to sell land to builders or allow its redevelopment for housing.
The government believes 5,300 of those units will be "affordable," double the number enabled by Canada Lands over the past 30 years, Duclos said Tuesday in Ottawa.
"We need to go faster, and we are going faster," he said.
Trudeau's government has been grappling with an outcry over the soaring cost of housing. The benchmark home price has doubled in a decade to $753,900, while asking rents were up 11 per cent in September over the previous year, to an average of $2,149, according to Rentals.ca, an home-listings site.
Bloomberg
---
10:12 a.m.
Trade surplus more than doubles on higher energy prices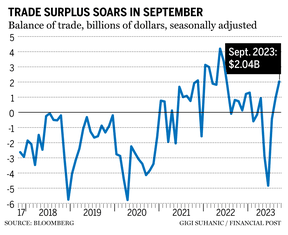 Statistics Canada says the country's merchandise trade surplus more than doubled in September as higher oil prices helped boost energy exports.
The agency says Canada's trade surplus for the month amounted to $2 billion compared with a revised surplus of $949 million for August.
Article content
Total exports rose 2.7 per cent to $67.0 billion in September. The increase came as exports of energy products gained 10.6 per cent at $16.9 billion, boosted by a 13.7 per cent increase in crude oil exports that was largely due to higher prices.
On the flip side, total imports increased one per cent to $65.0 billion.
Imports of motor vehicles and parts rose 5.8 per cent in September to $12.9 billion, while imports of industrial machinery, equipment and parts fell 3.6 per cent to $7.5 billion.
In volume terms, exports gained 0.4 per cent and imports rose 1.7 per cent.
The Canadian Press
---
9:30 a.m.
Opening bell: Stocks markets falter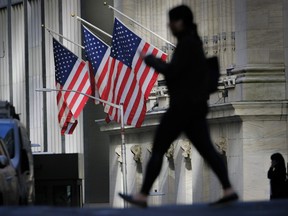 Stocks fell Tuesday after the recent rally, with traders navigating through a heavy slate of United States Federal Reserve speakers for clues on the central bank's next steps.
The S&P 500 edged lower, following a six-day advance that was fuelled by short covering and speculation the Fed is done with its tightening cycle.
In Canada, the S&P/TSX composite index was down 132.94 points to 19,611.00.
Bloomberg
---
8 a.m.
Cargojet reports lower profit, revenue in Q3
Article content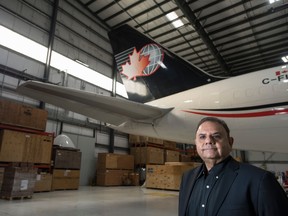 Cargojet Inc. reported its third-quarter profit and total revenue fell compared with a year ago.
The air cargo services company said it earned $10.5 million or 61 cents per diluted share for the quarter ended Sept. 30, down from $83.4 million or $4.33 per diluted share a year earlier.
Revenue totalled $214 million, down from $232.7 million in the same quarter last year.
On an adjusted basis, Cargojet says it earned 30 cents per share in its latest quarter, down from an adjusted profit of $2.18 per diluted share a year earlier.
Cargojet chief executive Ajay Virmani said the volumes for discretionary items are softening, but essential household goods are holding up well.
Virmani said the company is prudently trimming capital expenditures and working on identifying every cost saving opportunity.
The Canadian Press
---
7:30 a.m.
BCE cuts spending after blow from regulator
BCE Inc., Canada's largest telecommunications company, said it will chop capital spending by $1 billion after a regulator ordered the country's major phone providers to open up their broadband networks to smaller rivals at prescribed rates.
Article content
The decision by Canada's telecom regulator applies to Ontario and Quebec, the two provinces where more than 60 per cent of the population lives, and is intended to bring more competition to home internet services and reduce costs for consumers.
Vicky Eatrides, the chair and chief executive of the Canadian Radio-television and Telecommunications Commission, said the ruling was a response to years of declining competition from independent internet sellers, a number of which have been acquired by the major telecom firms.
The regulator will set interim rates at which BCE and other large phone companies must sell wholesale access to their high-speed "fibre to the home" networks, and will hold more public hearings on the issue starting in February, Eatrides said in a speech Nov. 6.
For BCE, the ruling is set to curb growth in one its most important lines of business. The company has invested heavily in laying fiberoptic networks in Canadian cities and towns to sell higher-quality internet and television services, aiming to grab market share from Rogers Communications Inc. and other rivals. Ontario and Quebec are BCE's most critical markets.
Article content
Derek DeCloet, Bloomberg
Read the full story here.
---
Before the opening bell: Stocks fall as Fed rate-cut doubts creep in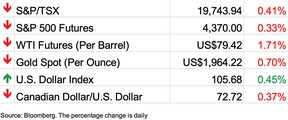 Stocks declined and dollar rose after comments by Minneapolis Fed president Neel Kashkari dampened hopes of speedy interest rate cuts from the United States central bank.
S&P 500 futures lost 0.3 per cent, indicating that the U.S. equity benchmark will snap a six-day winning streak, while Europe's Stoxx 600 index was little changed. West Texas Intermediate crude dropped below US$80 a barrel for the first time in more than two months. The dollar strengthened.
Kashkari, speaking in an interview on Fox News on Nov. 6, said it's too soon to declare victory over inflation. He added that while there have been three months of promising data on inflation, it isn't enough.
Meanwhile, bond markets were broadly higher, led by the United Kingdom, as Bank of England chief economist Huw Pill hinted that rate cuts may be on the table by the middle of 2024 and German industrial output figures suggested that recession isn't far off. Two-year gilt yields fell 11 basis points to 4.61 per cent and the rate on 10-year Treasuries slid five basis points to 4.59 per cent.
Article content
In Canada, the S&P/TSX composite index closed down 80.91 points at 19,743.94 on Monday.
Bloomberg
---
What to watch today
The Bank of Canada hosts its annual economic conference, with governor Tiff Macklem among speakers. Deputy governor Sharon Kozicki will make opening remarks for this year's John Kuszczak Memorial Lecture. The theme for 2023 is "The Future of the International Monetary and Financial System." Pierre-Olivier Gourinchas, International Monetary Fund and University of California Berkeley, makes the keynote address.
Quebec will release its economic update at noon.
The Canadian Manufacturers and Exporters hosts its 2023 National Manufacturing Conference and annual general meeting in Ottawa. Speakers include David Cohen, U.S. ambassador to Canada, Environment Minister Steven Guilbeault, International Trade Minister Mary Ng, Employment Minister Randy Boissonnault and Alan Arcand, chief economist at CME.
Bombardier Inc. chief executive Eric Martel will give the keynote address at the AIAC Canadian Aerospace Summit in Ottawa.
Data releases today included Canadian merchandise trade balance, and the goods and services trade balance in the United States.
Expect earnings reports from Saudi Aramco, Suncor Energy Inc., Cargojet Inc., Uber Inc., Ovintiv Inc., TransAlta Corp. and EQB Inc.
Need a refresher on yesterday's top headlines? Get caught up here.
Additional reporting by The Canadian Press, Associated Press and Bloomberg
---
Bookmark our website and support our journalism: Don't miss the business news you need to know — add financialpost.com to your bookmarks and sign up for our newsletters here.