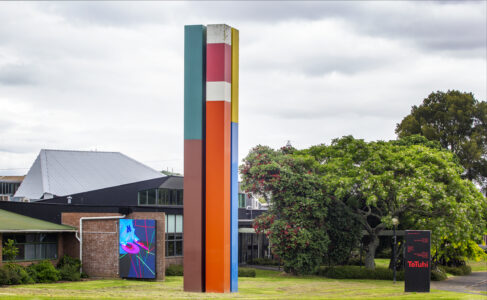 A new art exhibition in east Auckland will employ radio and sonic storytelling to explore the human experience.
Pacific Frequencies: Mahu is being staged at Howick Historical Village and Highland Park Library as part of the Arts Out East initiative.
The collaborative project connects the stories of 'home' between the generations of east and south Auckland communities.
The interactive audio-visual exhibition focuses on the Urban, Polynesian, and Indigenous experience in the city.
The production collective behind the project is 'Brownalfa', an all-wahine (woman) film production collective whose work aims to elevate and support the works of upcoming Maori and Pacific artists.
Its members are founder Trina Lealavaa-Ama, Flat Bush resident Roimata Prendergast, and Sally Ama.
'Mahu' is a channel of the exhibition exploring grieving and healing from what a person perceives as their home.
"One might consider home the brick bones of a dwelling place, in this case, home can be identified as a place, person or structure," according to Arts Out East.
"You may look at Mahu as if it were a station on the radio you have tuned into.
"And with each segment, you begin to understand the stories and experiences of grief, and offering what it looks like to heal, in all its non-linear, nostalgic, and sonic forms."
Pacific Frequencies: Mahu can be viewed at the Howick Historical Village in Lloyd Elsmore Park from July 8 to August 5, and Highland Park Library from August 7 to September 4.
Arts Out East is supported by Te Tuhi and the Howick Local Board.