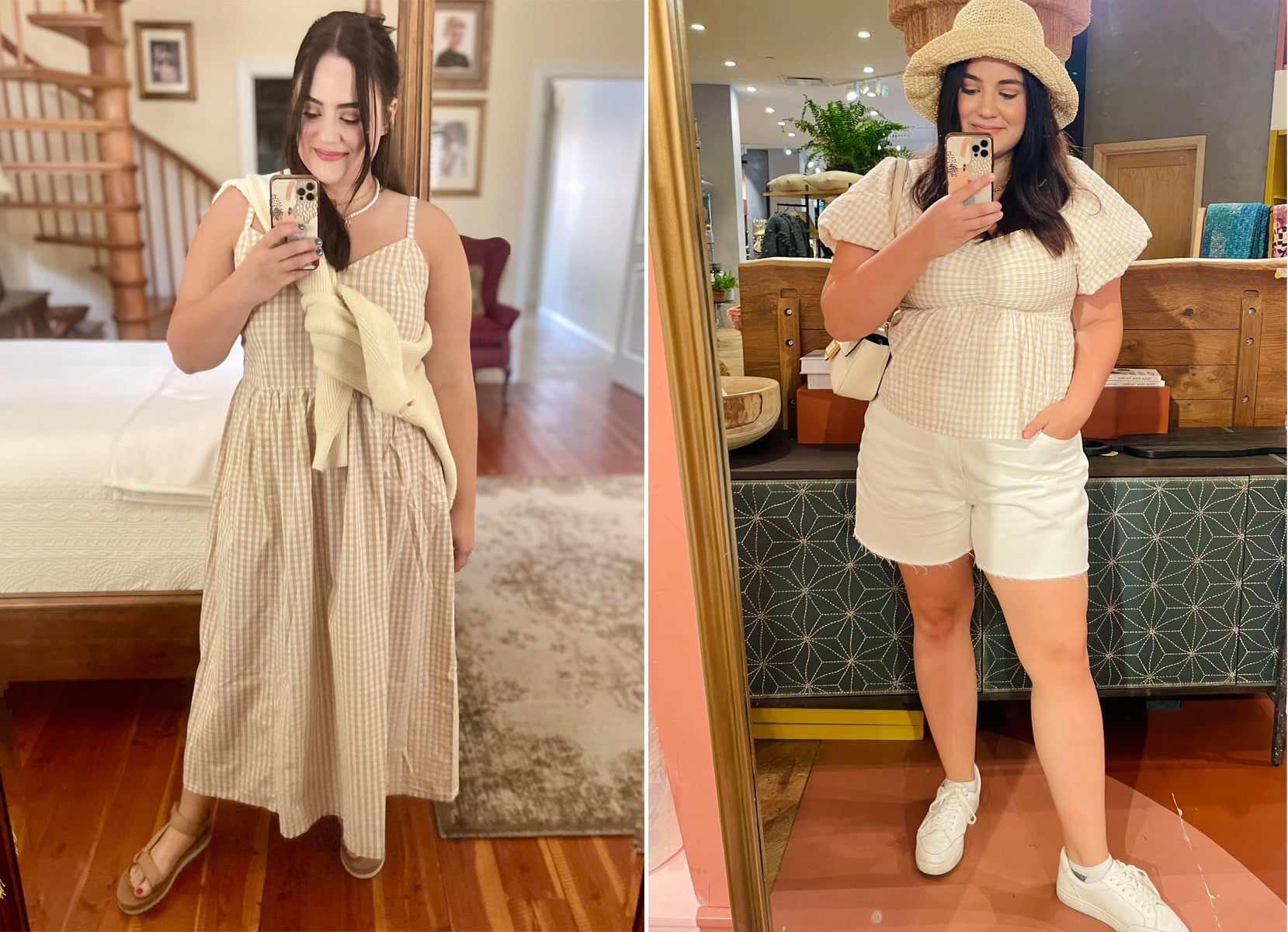 As soon as TikTok influencer Lex Nicoleta introduced the internet to the coastal-grandmother aesthetic, I knew I was all in. To understand the look, imagine yourself as Diane Keaton in a Nancy Meyers movie, or Martha Stewart whipping up dinner at her beach home. The vibes are an all-neutral color palette with lots of lightweight fabrics and classic silhouettes. Although the look should be effortless, it can also be expensive to achieve. That's why I challenged myself to create two outfits that are totally coastal grandmother without a big price tag.
Ahead, you'll see that all my key pieces are under $50. I paired these items with shoes and accessories I already had in my closet, which I have shopped out for you as well. Keep reading to check out my looks and see if coastal-grandmother style is something you want to try for yourself.
Look 1: Effortless Neutral Dress and Cozy Cream Sweater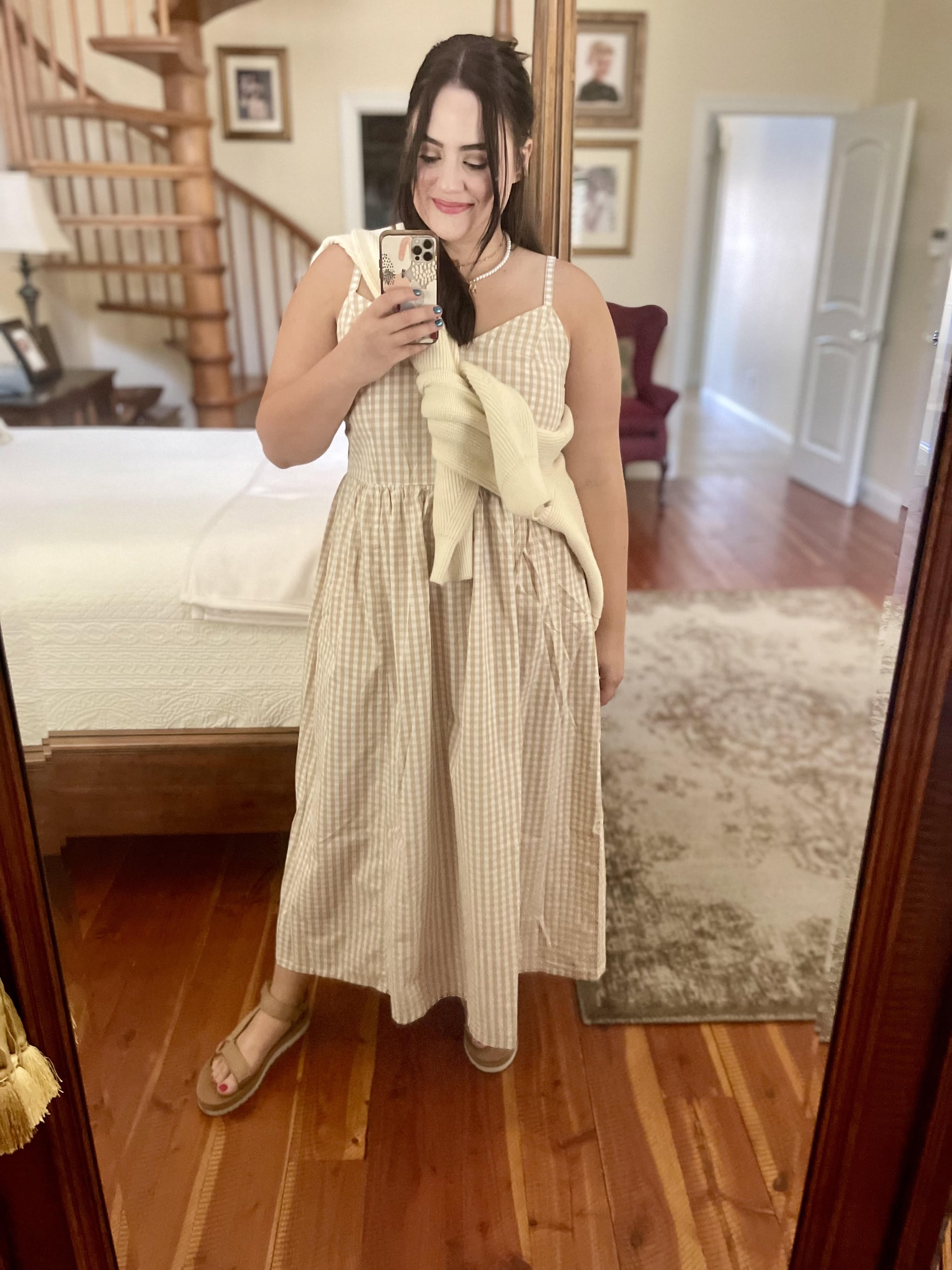 Key Piece: This Old Navy Cotton-Poplin Cami Maxi Swing Dress ($36, originally $45) is incredibly comfortable and includes my most favorite feature: pockets! It does run a little big, so I would suggest sizing down. I have washed it twice now, and it holds up beautifully. Frankly, I think I need it in more colors.
Accessories: I paired my comfy dress with these Universal Thread Holden Platform Sport Sandals ($30) that are great for walking around all day. I appreciate that all the straps are adjustable with Velcro. I also tied this Who What Wear Collection Charlotte Cropped Cardigan ($64, originally $128) over my shoulder — it's been my trusty layering piece all summer long; the cropped style looks great with dresses.
Outfit Notes: So how exactly does this channel coastal grandmother? For starters, the neutral color palette is key — you should keep your look to shades of tan, beige, and white. The lightweight fabric and shoes make this a great outfit for the beach, and you always want to exude those seaside vibes. Outerwear for coastal grandmothers is strictly sweaters, which is why I completed this look with my cream cardigan.
Look 2: Gingham Blouse and White Shorts Topped With a Woven Hat
Key Pieces: This Old Navy Puff-Sleeve Smocked Seersucker Babydoll Swing Blouse ($20, originally $35) is fantastic for me because I have a D-cup, but it's so supportive, I don't even need to wear a bra. The quality is very impressive, and the puff sleeves are nicely designed. I paired the blouse with my favorite pair of Old Navy High-Waisted Slouchy Straight White Cut-Off Non-Stretch Jean Shorts ($24, originally $35), which have a five-inch inseam. I am loving the longer shorts that are trending this summer.
Accessories: I completed my look with this adorable Familyhouse Handmade Woven 100% Raffia Bow Sun Hat ($6), which has the sweetest surprise in the back — a big woven bow. I also put on my ultracomfortable Birdies Cardinal sneakers ($145); they're so cushioned, it feels like you're walking on little pillows.
Outfit Notes: If the woven hat doesn't immediately give the coastal-grandmother aesthetic away, I can't help you. Diane Keaton would definitely be wearing this hat for one of her beach strolls in a rom-com. Every coastal granddaughter should have white denim in her closet, and these shorts are perfect for summer. My simple white sneakers are great for running errands in your adorably small town when you bump into an old flame (pretend with me).
Image Source: POPSUGAR Photography / Macy Cate Williams