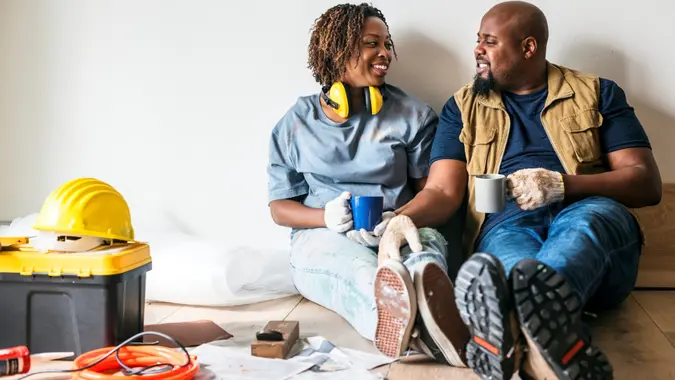 Rawpixel / Getty Images/iStockphoto
With inventory tight and interest rates high, many homeowners are settling on renovating their houses instead of moving into new ones. On the bright side, however, that might be a blessing in disguise.
Remodeling an existing house can be a much better option than moving, particularly considering the challenges of the current real estate market. A home makeover can reduce stress, keep you in a neighborhood you love, add value to your property, upgrade your home to suit your changing needs and save you a whole lot of money in the long run. Here are six explanations of why a reno is often better than a redo.
Selling Your House and Buying a New One Is Expensive
According to Rocket Homes, sellers pay about 10% of the home's value in fees and costs. That's $34,885 for the median home in the U.S., which Zillow says is currently worth $348,853. According to Experian, buyers pay up to 5%, or another $17,443.
That's a total of $52,328 in real estate transaction costs alone.
According to Remodeling by JLC, that's enough for two of the most expensive renovations — kitchen remodel ($26,790) and bath remodel ($24,606) — at the same time. And those fees are just part of the costs associated with selling and buying a home — particularly with 30-year home loans currently at 7%.
"Purchasing a new home means paying for moving expenses, real estate transaction costs and possibly high interest rates on the mortgage loan," said Mark Buskuhl, founder & CEO of Ninebird Properties in Dallas. "These costs can add up quickly and make it difficult to get ahead financially. Renovating an existing home allows you to avoid all these unnecessary burdens by utilizing the resources that you already have."
As Your Needs Evolve, Your Home Can Too
People often move because their homes can no longer accommodate their growing families, declining mobility or other lifestyle shifts. They might be better off renovating around their problems than starting over in a new house.
"You can adjust the layout of your home to suit changing needs and wants as your family changes over time," said Jonathan Faccone, Realtor and managing member and founder of Halo Homebuyers. "If you decide you need an extra bedroom or bathroom, it's much simpler and more cost-effective to renovate than to try to buy a new home."
Creating Your Own Perfect Space Is Better Than Buying Someone Else's
Just as your requirements for space and amenities can change, so too can your taste and style. If you're tired of your same old house, a renovation offers the perfect opportunity for reimagining your dream home.
"Renovating your home provides a unique opportunity to exercise your creativity and bring your personal vision to life," said Pete Evering, business development manager at Utopia Property, one of California's largest property management companies. "With renovating, you're not limited to the existing layout and design. You have the power to mold your space according to your preferences. From selecting the color palette that resonates with your style to choosing the materials that best suit your taste, every decision is in your hands. Whether it's crafting an open-concept living area that fosters togetherness or fashioning a cozy nook for relaxation, renovating lets you imprint your identity onto every corner of your home."
Remodeling Is Ideal If You Love Your Neighborhood
People create intense personal bonds with their communities and the people who live in them — and there's no need to sever those connections when your house starts to feel stale.
"Location plays a pivotal role in the tapestry of our lives," said Evering. "Renovating allows you to stay rooted in the neighborhood you've grown to love. The prospect of shifting to a new place can be daunting, especially when considering the impact on your daily routine. Moving often entails transferring children to new schools, adjusting to unfamiliar commutes, and forging connections in an unfamiliar community. Renovating helps you bypass these upheavals, letting you remain connected to the places, faces, and rhythms that already define your life."
Force New Equity Instead of Starting Over
The best renovations are the ones that force equity and let you up the asking price when it comes time to sell.
"By renovating, homeowners can increase the value of their property on their terms, choosing specific projects that offer a good return on investment," said Humberto Marquez, a licensed real estate broker with Awning. "My buddy Tom, also in real estate, told me about a client of his who added a small backyard shed turned office space, and it dramatically increased the property value due to the current work-from-home trend."
Remodeling can also help you build educational equity. "Another often overlooked aspect is the learning experience," said Marquez. "Renovating can be an educational journey where homeowners learn about design, architecture, and even a bit of construction. This knowledge can prove invaluable for future real estate decisions."
Small Projects Can Have a Big Impact
The word "renovation" conjures images of home equity loans and workers stomping through your house for weeks on end. But a few well-planned, high-impact changes can be just as transformative as big, expensive, intrusive projects.
"Sometimes, small tweaks do the trick," said Jim Olenbush, founder of AustinRealEstate.com. "Not all renovations need to drain your bank. Moderate touch-ups, perhaps to the kitchen or a bathroom, can significantly elevate a home's value and livability. But here's the catch — any renovation should ideally be an investment. If you're pouring money into a project, ensure it enhances your property's worth. If the numbers don't tally, it might be time to revisit the drawing board or, in this case, the property listings."
More From GOBankingRates