12 September 2023, 17:47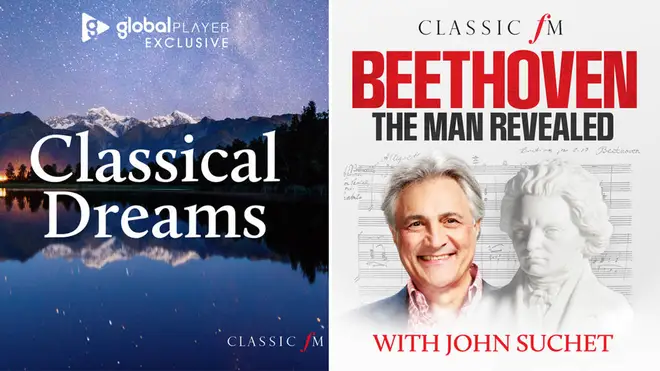 From true crime to comedy, opera and family-friendly, here are the best podcasts about classical music and culture in 2023.
Whether you're looking for a podcast to pass the time, looking for some extra entertainment on your commute, or just want to discover more about culture and the arts, we've compiled a handy list of the greatest classical music podcasts you can listen to for free, in 2023.
Even better, they're all available on Global Player, so you can find them all in one place along with your favourite playlists and radio stations!
So without further ado, get stuck in to one of these brilliant podcasts today.
Read more: The best classical music playlists to suit your every mood
Classical Dreams

Lie back, relax, and enjoy a collection of soothing stories, designed to help lull you into a calm and restful sleep.

Hear from some of your favourite Classic FM presenters as they draw you into the landscapes that inspired the most evocative classical music.

Explore the opulent marble of Granada's vast Alhambra Palace, and the satisfying crunch of sand underfoot on the way to Fingal's Cave in the Scottish Hebrides.

That Classical Podcast

Kelly, Sascha and Chris look to the funny side of classical music, in That Classical Podcast.

Whilst exploring some of the world's most famous composers and their music, they also look at some of their many quirks, mishaps, and the less-than-polite things they liked to say…

If you like a giggle alongside your listening, why not give it a try?

Listen to That Classical Podcast on Global Player >





Kelly, Sascha and Chris discuss classical music's great melodies, mishaps and myths.

Picture:
That Classical Podcast




YourClassical Storytime

Podcasts aren't just for adults – YourClassical Storytime is the perfect way to introduce your little one to classical music.

Pairing favourite childhood stories with the perfect classical piece to match, these short bite-sized episodes are a great way to entertain and relax the next generation of classical music lovers.

Listen to YourClassical Storytime on Global Player >





Hear classic children's stories told alongside classical music, on YourClassical Storytime.

Picture:
American Public Media




Switched On Pop

If you've ever listened to a piece of pop music and though to yourself, 'How did we get here?', then this could be the perfect podcast for you.

Musicologist Nate Sloan and songwriter Charlie Harding take a look at some of today's biggest hits and beloved anthems of yesteryear, diving under the surface to figure out how they were made and what they all mean.

From J.S. Bach and James Bond to Louis Armstrong and Taylor Swift, there's an episode for everyone no matter your music tastes.

Listen to Switched On Pop on Global Player >





Switched On Pop pulls back the curtain on the making and meaning of popular music.

Picture:
Vulture




David Walliams' Marvellous Musical Podcast

From 19th-century rock stars to famously grumpy virtuosos, David Walliams takes you along on a marvellous musical journey to discover more about classical music.

Hear all about history's greatest classical composers, weird and wonderful instruments, and what really goes on behind the scenes at the ballet…

Listen to David Walliams' Marvellous Musical Podcast on Global Player >





David Walliams' Marvellous Musical Podcast is the perfect entertaining introduction to classical music for young people.

Picture:
Classic FM




LA Opera Podcasts: Behind the Curtain

From across the Atlantic, the LA Opera beckons you through the stage door with a great range of podcast episodes that bring their performances to life beyond the theatre.

From fun, bite-sized opera synopses to discussions with the cast and crew, and even pre-performance talks from music director James Conlon, there's an episode for every occasion.

Listen to LA Opera Podcasts: Behind the Curtain on Global Player >





The LA Opera takes you 'behind the curtain' to explore their opera performances.

Picture:
LA Opera




Experience: The Ludovico Einaudi Story

Game of Thrones star Joe Dempsie investigates the incredible calming power of Ludovico Einaudi's music.

Speaking to Einaudi fans, including Russell Crowe and Shane Meadows, Dempsie gets to the bottom of why the composer's music has such a hold on the hearts and minds of so many.

Listen to Experience: The Ludovico Einaudi Story on Global Player >





Joe Dempsie investigates the power of Einaudi's music.

Picture:
Acast




Met Opera Guild Podcast

If opera is your passion, one of the world's greatest opera companies has the perfect podcast for you.

Read more: Met Opera Orchestra makes history performing at US Open tennis final

The Met Opera Guild podcast gives you an exclusive peek backstage of all the goings-on in the wings, from opera lectures to artist interviews, spotlights on the titans of the operatic stage, and much more.

Listen to the Met Opera Guild Podcast on Global Player >





The Met Opera Guild podcast explores the beloved genre with artist interviews and guest lectures.

Picture:
Metropolitan Opera Guild




Beethoven: The Man Revealed with John Suchet

One of the greatest composers the world has ever witnessed deserves the the world's longest ever radio series devoted to a single composer.

That feat was Classic FM presenter John Suchet's gift to his hero, Ludwig van Beethoven.

Hear all 52 episodes, now in the form of a podcast, as John reveals the many layers of a complicated and beloved icon, from his personal life to the music that we know and love, with rarely heard gems along the way.

Listen to Beethoven: The Man Revealed on Global Player >





John Suchet presents a landmark 52-episode series on Beethoven, his life and his music.

Picture:
Classic FM




Case Notes

If you love the drama, daring and mystery of true crime – have we got the podcast for you!

Classic FM's award-winning podcast, Case Notes, delves into the dark and sometimes dangerous tales behind the classical music you know and love.

From the mystery of Haydn's missing head to whether or not Mozart was really poisoned by his rival Salieri, we put our finest investigator, Tim Lihoreau, on the case.

Listen to Case Notes on Global Player >





Tim Lihoreau presents Classic FM's award-winning true crime classical music podcast, Case Notes.

Picture:
Classic FM